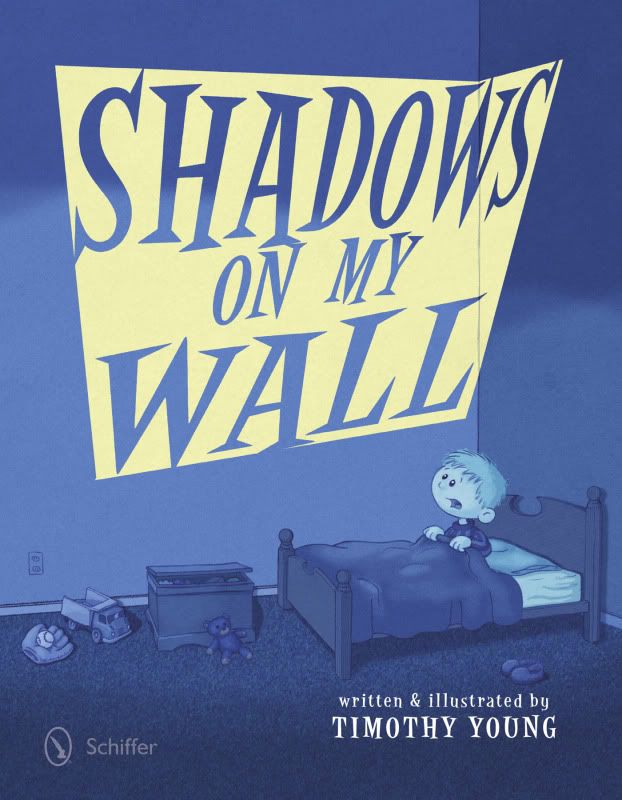 SUMMARY FROM NETGALLEY.COM:
The street lights make shadows on Kevin's wall! In those shadows, he sees monsters, dragons, and all sorts of frightening creatures. Does he let them scare him or does he find imaginative ways of dealing with these creepy shadows? Find out in this frightfully fun book. Through 15 creative illustrations of silhouetted shadow characters, contrasting with night-time colors, Kevin's room and his imagination come to life! Illustrations also show how you can create your own shadow figures! From Kevin's experience, children will learn how to deal with their own shadowy fears. Grades Pre-K to 4.

Timothy Young has worked as a toy designer, animator, illustrator, sculptor, puppetmaker, and graphic designer. He was design director for two toy companies and has created the iPhone app "Mix-Em-Ups."
MY TAKE:
This book did not disappoint in the least.
In Shadows on My Wall, Kevin sees all sorts of shadows on his bedroom wall at night. Sometimes they're scary and sometimes they're nice. Eventually, he learns how to make the scary shapes seem less scary.
As a kid, I used to enjoy making shapes with shadows and this book brought me back to those days. What's great about this book is that it not only teaches kids not to fear shadows, but it also shows kids how to have fun with shadows by making all sorts of shapes.
The illustrations are very cute and simple, and the mostly blue and yellow color palette complements it well.
My favorite part of this book, though, is the last part of the book which contains different types of animal shadows you can do.
Thanks to NetGalley and Schiffer Publishing Ltd. for the e-copy.
THE GOOD:
It teaches kids to not fear shadows on their wall.
Kids can learn how to make different animal shadows.
It's very charming.
THE BAD:
It would be nicer if there were more animal shadows to try.
FAVORITE QUOTE/S:
Then I thought they looked like dinosaurs.
I like dinosaurss, so I was less scared.
READ IT IF:
You like making shadows on the wall.
Your child is scared of shadows.
You want to teach your kids how to make animal shadows.
RATING:

SOUNDS INTERESTING?