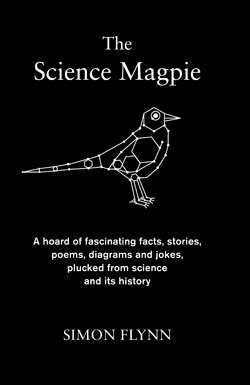 SUMMARY FROM NETGALLEY.COM:
From the Large Hadron Collider rap to the sins of Isaac Newton, The Science Magpie is a compelling collection of scientific curiosities.

Expand your knowledge as you view the history of the Earth on the face of a clock, tremble at the power of the Richter scale and learn how to measure the speed of light in your kitchen.

Skip through time with Darwin's note on the pros and cons of marriage, take part in an 1858 Cambridge exam, meet the African schoolboy with a scientific puzzle named after him and much more.
MY TAKE:
For science geeks and those with short attention spans like me, this book is the ultimate leisure read.
The Science Magpie is a collection of science tidbits and anecdotes about topics ranging from genetics to quantum physics.
This book reminded me of the Uncle John's Bathroom Readers series, in that the articles are really short and aren't really related to each other. This makes for perfect bathroom reading for science nerds.
This book isn't just for science lovers, though. The topics are easy to understand and explained well, so even those who aren't too familiar with the subject or haven't read about the topic since college, will be able to enjoy this book.
Thanks to NetGalley and Icon Books for the e-ARC.
THE GOOD:
You learn and relearn a lot of science tidbits.
You don't have to be a scientist to understand the articles.
The length is perfect for those who are only looking for short reads.
THE BAD:
Some parts may seem boring to some, especially if read in one sitting.
FAVORITE QUOTE/S:
So which is it? If we accept the postulate given to me by Teresa Banyan during my Freshman year, that "... it will be a cold day in Hell before I sleep with you" and take into account the fact that I still have not succeeded in having sexual relations with her, then, #2 cannot be true, and thus I am sure that Hell is exothermic and will not freeze.
READ IT IF:
You are a science geek.
You have a short attention span.
You like reading in the bathroom.
RATING:

SOUNDS INTERESTING?