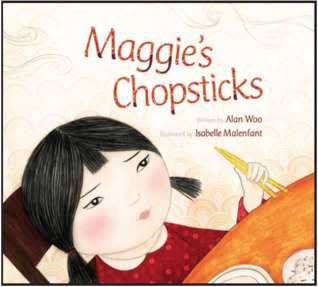 SUMMARY FROM NETGALLEY.COM:
Poor Maggie struggles to master her chopsticks -- it seems nearly everyone around the dinner table has something to say about the "right" way to hold them! But when Father reminds her not to worry about everyone else, Maggie finally gets a grip on an important lesson.
MY TAKE:
I'm not particularly good at handling chopsticks so I thought this was an interesting concept.
In Maggie's Chopsticks, Maggie is having trouble learning how to hold her chopsticks correctly. Her family teases her for this, but they give her tips to help her be better.
I felt bad for Maggie because her grandmother, mother and brother seemed a little bit mean. I liked how the book showed how Maggie tried to practice using her chopsticks. It seems like exactly the kind of things that kids do with chopsticks. The ending seems a little bit abrupt, though, but it's a happy one.
The coloring and illustration style are also very appropriate to the story, as it has an Oriental feel to it, mostly because of the use of the color red, black and orange.
Thanks to NetGalley and Kids Can Press for the e-copy.
THE GOOD:
It can give kids the confidence to try using chopsticks.
The illustration and coloring is perfect for the story.
Maggie seems like an intelligent girl.
THE BAD:
The writing might be too flowery for some.
FAVORITE QUOTE/S:
"What should I do?"
I ask my cat,
Purring perfectly in my lap.
READ IT IF:
Your child is having trouble using chopsticks.
Your child is having trouble learning a skill.
You like stories that celebrate uniqueness.
RATING:
SOUNDS INTERESTING?