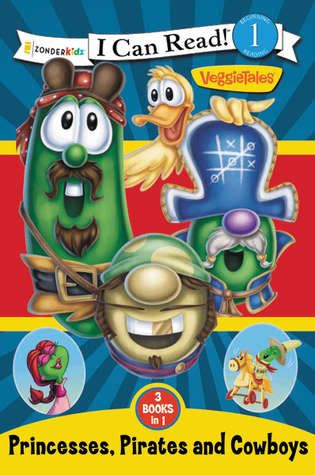 SUMMARY FROM NETGALLEY.COM:
For ages 4-7
Come join the VeggieTales gang as they learn about how to live like God wants us to. This three-book collection of VeggieTales I Can Read stories provides young readers with an ideal gift they will enjoy for years to come.
This collection includes:
Who Wants to be a Pirate?
The Fairest Town in the West
Princess Petunia's Sweet Apple Pie
MY TAKE:
This book is a really cute book that is a great way to teach really young kids things like sharing and being true to yourself.
Princesses, Pirates, and Cowboys is composed of three short stories. The first story is Princess Petunia's Sweet Apple Pie wherein there's a pie contest to find out who the host of the next fair will be. The second story is Who Wants to be a Pirate wherein three pirates wonder what else they could do besides their usual activities. The third story is The Fairest Town in the West wherein one town tries to stay the nicest in the west.
The strongest story for me is the first one. Out of the three, I found this one to be the most fun and entertaining. The third story was actually okay, but I didn't find it as interesting as the first two stories. The second story was cute, but I'm not too sure about the ending because it felt like it was encouraging not doing anything. Obviously that's not what the lesson of the story is, but I think the message would have been stronger or clearer if the pirates' identity was something else like they were musical pirates or something.
The illustrations are really nice, though, and will really appeal to kids.
Thanks to NetGalley and Zondervan for the e-ARC.
THE GOOD:
The illustrations and coloring is perfect for the stories.
The stories are short but feel complete.
There are a variety of stories for children to enjoy.
THE BAD:
The Bible quotes at the end of the stories might not appeal to some parents.
FAVORITE QUOTE/S:
So the knights worked on their pies.
Starry Knight made a shepherd's pie.
Knight Owl made a black forest pie.
Hard Days Knight made a beetle pie.
Yuck!
READ IT IF:
Your kid likes princesses, pirates or cowboys.
You want to teach your child about things like sharing, loving who he or she is, and being nice.
You want to get your kid to start reading more.
RATING:
SOUNDS INTERESTING?