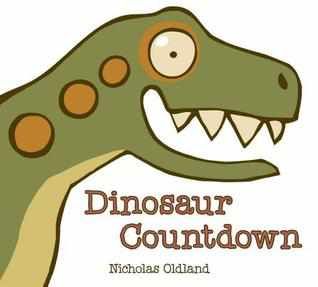 SUMMARY FROM NETGALLEY.COM:
Count down from ten striding velociraptors to a ferociously funny end in this counting book for dinosaur lovers of all ages!
MY TAKE:
This book is pretty much as advertised.
Dinosaur Countdown is a reverse counting book that features dinosaurs.
I liked that it included dinosaurs that aren't so well-known, like deinosuchus, for example. The dinosaurs weren't as cute as I would have liked them to be, but that doesn't really matter so much, I think, as this book will most likely be a favorite of little boys who care more about the idea of dinosaurs than whether or not they're cute.
I was pleasantly surprised by the ending. As it's a countdown book, there really isn't a plot to this children's book, but the ending was funny and a perfect way to wrap up the book.
Thanks to NetGalley and Kids Can Press for the e-copy.
THE GOOD:
It helps teach kids to count.
It teaches kids about dinosaurs.
There's a little tutorial at the back that teaches kids how to pronounce the names of the dinosaurs mentioned in the book.
THE BAD:
The colors aren't as eye-catching as most children's books.
FAVORITE QUOTE/S:
ten
striding velociraptors
(and one looming predator)
READ IT IF:
Your child likes dinosaurs.
You are teaching your child to count.
You want to teach your child about dinosaurs.
RATING:
SOUNDS INTERESTING?