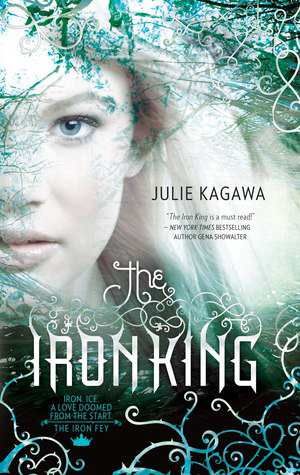 SUMMARY FROM GOODREADS.COM:
Meghan Chase has a secret destiny; one she could never have imagined.
Something has always felt slightly off in Meghan's life, ever since her father disappeared before her eyes when she was six. She has never quite fit in at school or at home.
When a dark stranger begins watching her from afar, and her prankster best friend becomes strangely protective of her, Meghan senses that everything she's known is about to change.
But she could never have guessed the truth - that she is the daughter of a mythical faery king and is a pawn in a deadly war. Now Meghan will learn just how far she'll go to save someone she cares about, to stop a mysterious evil no faery creature dare face; and to find love with a young prince who might rather see her dead than let her touch his icy heart.
MY TAKE:
I've been meaning to read this series for awhile now, but I've been putting it off because the reviews made me hesitant.
In The Iron King, Meghan Chase finds out that she's the daughter of King Oberon and that her best friend is actually the famous Puck from Shakespeare's tale. She also learns that something's brewing in the fey world and she just might be at the center of it all.
So what did I think of the series? I liked the concept and I really liked Julie Kagawa's world-building. The idea of how the fey realms came about was interesting too.
As for the characters, while Grimalkin is basically a more magical and helpful Cheshire Cat, I liked him anyway. In fact, he's my favorite character in the entire book. Meghan, on the other hand, just rubbed me the wrong way. She's annoying and impulsive most of the time and that frustrated me a lot and took away from the beauty of the book.
Neither Puck nor Ash were all that interesting to me in this book, although if I had to choose one, I would prefer Ash. Puck was a little bit too chipper for my taste.
THE GOOD:
The world-building is great.
The concept behind the feys' existence is interesting and has a lot of potential.
The plot is novel enough to make this a fun read.
THE BAD:
Meghan can be very annoying and frustrating.
FAVORITE QUOTE/S:
"Idiot. I told you not to fight the horse thing."
READ IT IF:
You like books about fairies.
You like YA books with love triangles.
You liked Twilight.
RATING:

SOUNDS INTERESTING?