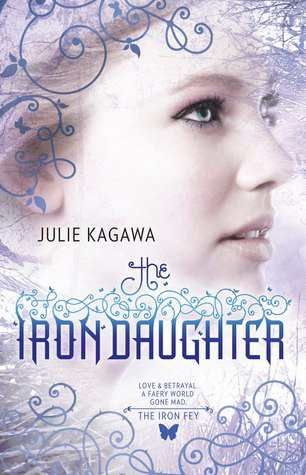 SUMMARY FROM GOODREADS.COM:
Half Summer faery princess, half human, Meghan has never fit in anywhere. Deserted by the Winter prince she thought loved her, she is prisoner to the Winter faery queen. As war looms between Summer and Winter, Meghan knows that the real danger comes from the Iron fey—ironbound faeries that only she and her absent prince have seen. But no one believes her.
Worse, Meghan's own fey powers have been cut off. She's stuck in Faery with only her wits for help. Trusting anyone would be foolish. Trusting a seeming traitor could be deadly. But even as she grows a backbone of iron, Meghan can't help but hear the whispers of longing in her all-too-human heart.
MY TAKE:
At first, I wasn't sure if I wanted to continue reading the series as The Iron King underwhelmed me. I'm glad I gave this book a chance.
The Iron Daughter picks up ahile after The Iron King. Meghan is now in the palace of the Winter fey after she bargained with Ash in the first book. This time, though, the threat of the Iron fey has grown and with Winter and Summer going to war, it's up to her, Ash and a few friends they met along the way to save the Nevernever.
I found the plot of The Iron Daughter to be much more exciting than The Iron King. Grimalkin, my favorite character, is back, as well as a few new characters who help to propel the story forward. We get to learn a lot more about the fey world and you come to appreciate how intricate the world Julie Kagawa created is.
I still am not too fond of Meghan, but I really grew to like Ash in this book. I'm rooting for the two of them, especially after that sweet, romantic ending. I mean, I've read plenty of other books whose love story has a similar scene, but why break a trope or a scene if it's not broken?
THE GOOD:
Meghan and Ash's love story.
Grimalkin and the other new secondary characters are very likable.
We learn more about the realm of the Iron fey.
THE BAD:
Puck fans will be disappointed.
FAVORITE QUOTE/S:
"Don't leave," I whispered, tightening my hold. "Never leave me again. Stay with me. Forever."
The Winter prince smiled, a small, easy smile, and lowered his lips to mine. "I promise."
READ IT IF:
You liked the first book.
You are a fan of Meghan and Ash.
You like faery books.
RATING:

SOUNDS INTERESTING?