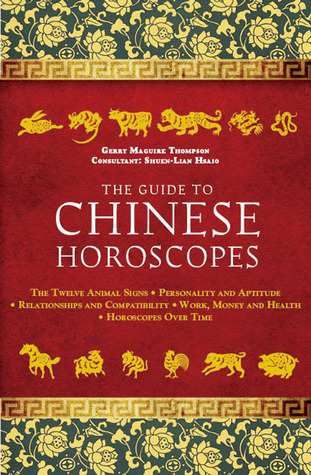 SUMMARY FROM NETGALLEY.COM:
A complete fortune-telling guide to your character and your destiny, based on Chinese animal signs – covering relationships, money, career, and health and well-being, with superb artworks of the twelve signs and plenty of helpful, attractive graphics.
This is a simple yet comprehensive guide to using the ancient Chinese system of horoscopes in order to do your own readings. Much more is involved than just the twelve famous animal signs. The author shows how the animal year sign cycle is enmeshed with a repeating cycle of the five elements, yielding a 60-year birth year cycle (5 x 12); and this in turn is modified by an hour of birth cycle, which uses the animal signs in a different way. Yin and yang forces also play a part in the system, which has a classic beauty of design, yet is supple enough to embrace the multiplicity of human experience.
The book includes extensive year charts, followed by a 14-page section for each animal sign, covering personality and aptitude traits, as well as tendencies and potential outcomes with regard to leisure, career, health, money and family life. A separate section covers the relationship potential for each sign, giving helpful scores for every possible combination, with an ingenious graphic chart offering an at-a-glance summary.
The last major section enables you to work out upcoming astrological influences for years to come, helping you to make decisions, deal with change, and cope with other life challenges.
MY TAKE:
When it comes to horoscopes, I've always found Chinese horoscopes to be more accurate than Western horoscopes.
The Guide to Chinese Horoscopes covers not only the personality traits, careers and compatibility of each sign, there are also predictions for the coming years.
Like most people, I skipped right ahead to my animal sign. Overall, I found the description of my sign accurate, particularly the part about me jumping from career to career because I get bored. What I found even more interesting was how, when I checked the signs of my father, my boyfriend and my mother, all of our careers could be found in the typical careers for our sign. My dad's and boyfriend's careers are pretty common, but my mom's and my careers aren't all that common so that was impressive.
What I like about this book is that there are predictions for the coming years. So, instead of buying books in the future, you can just refer to this one if you want to see what to expect in the future.
Thanks to NetGalley and Watkins Publishing for the e-ARC. Publication date of January 3, 2013.
THE GOOD:
The personality traits seem accurate.
The compatibility descriptions also look accurate.
There are predictions for future years.
THE BAD:
If you only want to read about your sign, you'll skip a lot of pages.
FAVORITE QUOTE/S:
From the Rat to the Pig and the Snake to the Sheep, the qualities of each animal sign of the Chinese Zodiac are often at odds with Western stereotypes - for example, while the rat may be considered vermin and a scavenger in the West, for the Chinese it is instead an animal of imagination and ingenuity.
READ IT IF:
You find Chinese horoscopes more accurate than Western horoscopes.
You are curious about the future.
You find personality quizzes fascinating.
RATING:

SOUNDS INTERESTING?