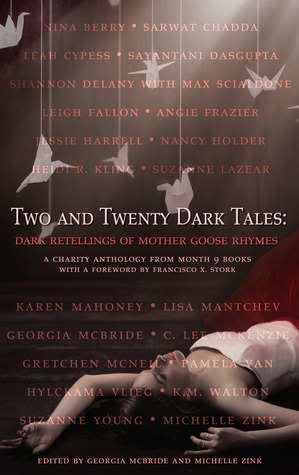 SUMMARY FROM NETGALLEY.COM:
In this anthology, 20 authors explore the dark and hidden meanings behind some of the most beloved Mother Goose nursery rhymes through short story retellings. The dark twists on classic tales range from exploring whether Jack truly fell, or if Jill pushed him instead, to why Humpty Dumpty, fragile and alone, sat atop so high of a wall.
MY TAKE:
It's been awhile since I read dark stories, but the idea of a darker version of Mother Goose nursery rhymes intrigued me.
In Two and Twenty Dark Tales, a number of Mother Goose rhymes are interpreted as dark stories.
I was actually expecting the stories to be straight up darker versions of the rhymes, but for most, if not all, of the stories, they are overhauled pretty completely. Some of them even take place in modern times, instead of the nursery rhyme settings.
For the most part, the stories were pretty successful in creating a reinterpretation of the classic nursery rhymes. The diverse story styles also ensure that there's something for everyone, even if you don't like all the stories in the book.
Thanks to NetGalley and Month9Books for the e-ARC. Publication date of Two and Twenty Dark Tales is on October 16, 2012.
THE GOOD:
It's a new twist on classic nursery rhymes.
The stories are imaginative.
There is something for everyone.
THE BAD:
Some of the stories may be too dark for some people.
FAVORITE QUOTE/S:
My arms spin slowly, like pinwheels in a lazy breeze, but there's nothing to latch onto.
READ IT IF:
You're fascinated by dark stories.
You grew up on the classic Mother Goose nursery rhymes.
You like reinterpretations that aren't predictable.
RATING:

SOUNDS INTERESTING?