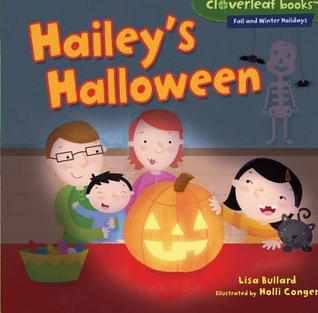 SUMMARY FROM NETGALLEY.COM:
It's time for Hailey's favorite holiday—Halloween! She plans her costume. She also carves jack-o'-lanterns with her family. Finally, it's time for Hailey to trick-or-treat with her friends. Find out how people celebrate this spooky time of year!
Learn the history behind holidays and what people do to celebrate in the Fall and Winter Holidays series, part of the Cloverleaf Books™ collection. These nonfiction picture books feature kid-friendly text and illustrations to make learning fun!
MY TAKE:
This book is perfect for kids who are just learning about Halloween or those who dress up but don't know the origins of the holiday yet.
In Hailey's Halloween, Hailey is trying to choose her costume for Halloween. As she prepares for Halloween, she also shares interesting tidbits about the origins of the celebration.
The plot of the book isn't really groundbreaking, but the insertion of trivia makes this a worthwhile read. It's a good way to teach kids about the history of Halloween without boring them. The illustration style is cute and very colorful so even kids who can't read yet will enjoy the pictures.
I also liked the inclusion of a tutorial at the end of the book on how to make face paint. Too bad I didn't know about this when I was a kid. It seems like a lot of fun for kids and their parents.
Thanks to NetGalley and Lerner Publishing Group for the e-copy.
THE GOOD:
The illustrations are cute and colorful.
Kids will learn a lot about Halloween.
There's a tutorial for making your own face paint, as well as links to websites and books for more information kids can use.
THE BAD:
The plot of the book itself isn't all that new.
FAVORITE QUOTE/S:
Long ago, there were no pumpkins in Europe. People there carved vegetables such as beets or turnips.
READ IT IF:
You or your child want to learn more about Halloween.
Your child really likes Halloween.
You are looking for a fun Halloween read.
RATING:

SOUNDS INTERESTING?