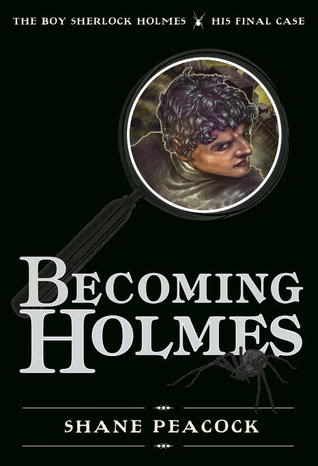 SUMMARY FROM NETGALLEY.COM:
In the sixth and final novel in the groundbreaking Boy Sherlock Holmes series, our hero discovers that his rival, the criminal Malefactor, has used nefarious means to place one of his two henchmen in a powerful position in the government treasury offices. But the henchman crosses his superior and is brutally murdered and thrown into the River Thames. Sherlock seeks to implicate Malefactor in the henchman's death, believing that he can, once and for all, bring down his rival. But is the murderer whom Sherlock suspects? Or is some darker, even more powerful force moving about London? Some will be exposed, some will live, and others will die in this surprising and shocking conclusion to the award-winning, internationally successful series.
Shane Peacock once again combines brilliant storytelling with fascinating historical detail to conjure a mystery worthy of one of the greatest sleuths in English literature.
MY TAKE:
I'm a big Sherlock Holmes fan so I just had to request this book.
Becoming Holmes is part of a series of novels about the young Sherlock Holmes. In this book, Sherlock Holmes squares off against Malefactor and his henchmen.
I wasn't completely sure how this would stack up against the works of the great Sir Arthur Conan Doyle who was a master at creating plot twists. While I wouldn't say that I this is as amazing as Sir Arthur Conan Doyle's work, I think he would definitely approve.
The plot twists were quite interesting, particularly one of the bigger reveals near the end. I would have preferred if the main antagonist was Malefactor, for reasons you'll understand when you read the book, but the outcome wasn't too disappointing.
I liked that the characters in the Sherlock Holmes stories appear in this series too. I especially liked the little cameo appearance that Watson makes.
Thanks to NetGalley and Tundra Books for the e-ARC. Publication date of Becoming Holmes is on October 9, 2012.
THE GOOD:
It's a good imagining of Sherlock Holmes' history.
You get to see a more emotional Sherlock Holmes.
The plot twists are worthy of Sherlock Holmes.
THE BAD:
Some parts don't feel as tightly written.
FAVORITE QUOTE/S:
And at the far end, bending over a notepad, doing exactly what his friend Stamford said he would be doing, is the aforementioned John.
READ IT IF:
You are a Sherlock Holmes fan.
You like mysteries.
You like prequels.
RATING:

SOUNDS INTERESTING?