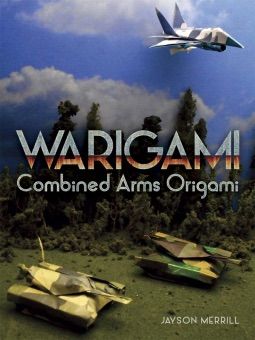 SUMMARY FROM NETGALLEY.COM:
Origami enthusiasts with a particular interest in weaponry will appreciate this unique book, which presents instructions for folding fourteen war machines: six jets, three missiles, and five ground vehicles.

Illustrated in full color, the step-by-step directions show how to assemble the models. Origami aircraft include a spy plane, strike fighter, and bomber, plus impaler, javelin, and harpoon missiles that can be mounted on some of the jets. Models of ground vehicles include the predator battle tank and guardian battle walker.
MY TAKE:
I went through an origami phase way back in the day and still dabble in it every now and then, so this book intrigued me.
Warigami contains instructions for creating origami versions of missiles, tanks, and jets.
Since it's been a long while since I've done anything beyond simple origami, I was quite rusty and I've forgotten what the folds are called. There's a guide at the start of the book that explains how some of the folds are done, which is great if you have a hard time remembering how to do the specific folds. I wasn't able to take full advantage of this, though, since I had a digital copy which made flipping back and forth between the guide and the model instructions harder for me.
The models are a pretty good copy, the best you can possibly get via origami. The different types of missiles, tanks, and jets require different sizes of papers, from 2 inches by 2 inches to greater. This means that you can attach some of the missiles to some of the jets. There's instructions on how to do this, which I thought was pretty cool, since that means you can do more than just fly the plane when you're playing with it.
The instructions may be too complex for beginners, though. Novices may be able to follow along, but it helps if you've practiced recently.
Thanks to NetGalley and Dover Publications for the e-ARC.
THE GOOD:
The finished products look great.
The missiles can be attached to some of the jets.
The drawings and instructions are detailed.
THE BAD:
Beginners may have a hard time following along.
READ IT IF:
You like building model aircraft.
You like origami.
You like origami projects that you can play with after.
RATING:

SOUNDS INTERESTING?